Imagine earning points for being a great patient and having a great smile! With Bottala Orthodontics, you get to join a membership club of lucky users who earn points for doing all kinds of awesome things. And the best part is that you get to use your points to play games, order gift cards and more!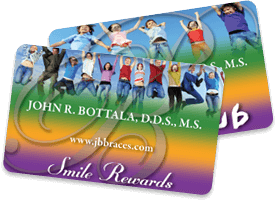 If you'd like to share some kind words and smiles, please ask our front desk staff for a comment card at your next appointment. We'd love to hear about your experience!

We appreciate you choosing our practice, and we are committed to making sure that your time spent with us is as comfortable and fulfilling as possible. In order to continue providing the kind of care that keeps our patients smiling, we encourage your comments and suggestions about the treatments and personal care you've received while visiting our practice.
Welcome to Bottala Orthodontics
Let Your Smile Shine!
Bottala Orthodontics has served the children and families of Chino Hills and Chino with quality orthodontic treatments since 1997. We are known in our community for our wonderful doctors, great customer service, and friendly staff! Your whole family will love our welcoming atmosphere that has a game area for the kids as well as movies and snacks for the whole family.
Dr. John Bottala provides the highest quality of modern orthodontic services, for smiles that last a lifetime! In addition to braces for children, teens, and adults, we also offer Invisalign® and Invisalign Teen® clear aligners, as well as Damon® Smile self-ligating braces, which often provide faster treatment times. Our array of services enables us to give you the treatment plan that best fits your needs and goals.
Contact our Chino Hills orthodontic office to schedule your complimentary consultation! We will perform a simple oral exam to determine which treatment is best for you and will take the time to answer all your questions. Give us a call today and join our family of happy patients!