September 1st, 2020
NO TWO SMILES ARE the same, and the teeth that make them don't always come in at the same rates. Some people get their adult teeth ahead of schedule, others get them late, and a few are left wondering if a tooth got lost on its way out. These are the impacted teeth. Most of the time, wisdom teeth are the ones that end up impacted, but not always.
Impacted Wisdom Teeth
If there isn't enough room for an adult tooth to come in, it might remain partially or fully beneath the gums, or even headed in the wrong direction entirely. This happens to a lot of wisdom teeth, and that can mean trouble for the roots of the neighboring molars if they aren't extracted in time. Impacted wisdom teeth don't necessarily impact orthodontic treatment.
Other Impacted Teeth
After the wisdom teeth, the most likely teeth to be impacted are the upper canines. This issue can even be genetic. In most cases, only one of the canines will be impacted, but sometimes they both are. Why the upper canines in particular? These are the teeth affected because they come in last after the incisors and premolars that neighbor them, and there isn't always enough room left for them.
Tooth Impaction Complications
When teeth can't erupt like they're supposed to, there can be complications like infections, gum disease, nerve damage, and cavities. Symptoms include bad breath or a persistent bad taste, tenderness and pain around the jaw, jaw and headaches, and swollen gums or lymph nodes. They also leave visible gaps between teeth where the impacted tooth should be.
These symptoms don't affect everyone with an impacted tooth. If it's the upper canine, the baby tooth might not ever become loose because the adult tooth isn't in the right place to push on it. The canine teeth form the "corners" of the smile, in a sense, so this can have a big affect on appearance.
Pulling Impacted Teeth Into Place
Tooth impaction can't really be prevented, but impacted wisdom teeth can be extracted and impacted canines can often be moved into place with a combination of oral surgery and orthodontic treatment. Dental X-rays will identify the impacted tooth, and then the orthodontist will make a plan for how to go forward.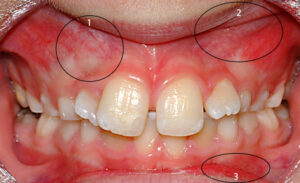 https://www.youtube.com/watch?v=cL6l_e1TeBE
Don't Leave a Gap in That Smile!
If you have an impacted canine tooth and haven't begun orthodontic treatment, Dr. Bottala  recommends scheduling a consultation. If correction is recommended rather than extraction, people with an impacted canine can expect their treatment to take a little longer than it would otherwise, but they'll have a complete, straight smile in the end!
Our goal is getting our patients the straight, healthy smiles of their dreams!